Today's post is by our intern Neil:
Have you ever tried running in shoes without shoelaces?   It is difficult, and risky as you can easily trip and fall on your face.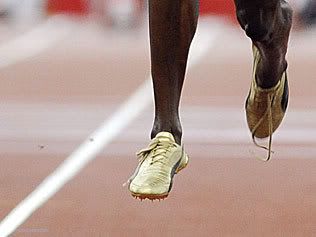 Running your business website without taking advantage of  SEO tools creates a similar scenario.  While you are unlikely to be in danger of  physical injury, the risk to your business is real.  Without a solid focus on SEO, you will find yourself tripping and falling as you attempt to drive traffic and connect with potential prospects and clients.
SEO (Search Engine Optimization) according to Wikipedia
is the process of improving the volume or quality of traffic to a web site from search engines via "natural" or un-paid ("organic" or "algorithmic") search results as opposed to search engine marketing (SEM) which deals with paid inclusion
There are many tools you can use to improve your position with  search engines such as Google, Yahoo and BIN.  Moving to the top of the search list means potential customers find you faster and easier compared to your competitors.  This in turn will improve the quantity and quality of  traffic to your website.
I have been researching SEO tools for the past few weeks and here are two of my favorites.
Google Analytics which analyzes your web site's performance by helping you understand what terms drive traffic, what information visitors search for when they arrive, and how long they stay. By looking at the data  you can make adjustments in your site to improve your performance.
Linkscape from SMOZ.org In the internet world you are judged by the company you keep.  These relationships are measured in links.  Using this tool you can discover who links to you and more interesting, who links to your competitors.
At  Roundpeg we rely on these tools to help our clients rank higher on Search Engines and drive more traffic to their sites.  Do you have a favorite SEO tool?
Any questions? Call us at Roundpeg, an Indianapolis web design company.
Neil out!