We just finished the material printed for the Window Makeover booth at the Home Show. And despite the snowstorm, the signs and brochures and busienss cards arrived in time for the show. Window Makeover will be at the Indiana State Fair Grounds today through February 8th. Stop by and say hi when you see the giant Window Makeover banner design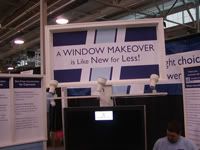 ed by us and printed with very short turn around time by Steve Scalp of SignHere.
Each piece of their twenty foot booth was designed and printed separately. There were 15 different pieces; posters, banners and signs which were assembled to create their home show booth.
If you go to the home show, stop in and check out the new Window Makeover and their awesome new booth!