Written by Amy Rowe
Make Room Now is just one of our latest additions to the Roundpeg Starter Website portfolio. The lighter and more relaxed style to the website was fun to create.
WordPress never seems to stop amazing me when it comes to plugging options and capabilities. On this particular site we added a soothing melody throughout each of the pages to reflect the calming nature of the business. As soon as you get to the site, you know what it is all about! This is exactly what we wanted from the design.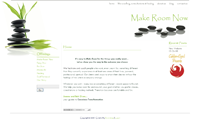 Click here to visit MakeRoomNow!