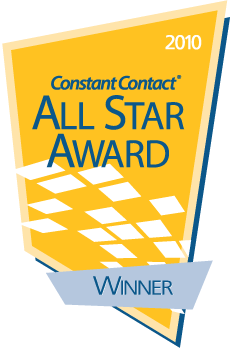 We have been using email as part of our marketing for more than eight years.  It all started when a friend sent me an email using Constant Contact. I liked the look and feel of the email, and signed up for the free trial.   Within a few days I was hooked.  The interface has come a long way over the years, and professional looking emails are a snap without any knowledge of HTML. The comprehensive analytics have helped me continuously improve my campaigns and newsletters.
When I started sending my email newsletter, few small businesses were using the tool so open rates were high and unsubscribe requests were low.   As more and more business owners have begun using the tool, I like the fact that Constant Contact continues to add features including the addition of social publishing and easy integration of YouTube video which helps me keep the content fresh and my readers engaged.
I have found so much value in the tool, that I became a reseller in 2004.  And even though I use AddressTwo for many of my drip campaigns and automatic campaigns, I still find certain applications which Constant Contact does extremely well.  I was honored to find out Roundpeg  has received the 2010 All Star Award from Constant Contact®, Inc., the trusted marketing advisor to more than 400,000 small organizations worldwide. We received this recognition because were one of Constant Contact's 2010 top performers and most prolific users of its tools. Constant Contact looked at criteria including the following when selecting this year's All Stars:
Frequency of campaigns, events and surveys
Open, bounce and click through rates
Usage of social features
Mailing list sign up tools
Use of reporting tools
"We work hard to listen to our customers, and we use that feedback to create products and services designed to help them better engage with their customers and prospects," said Gail Goodman, chairman, president and CEO of Constant Contact. "The Constant Contact All Star Awards are our way of recognizing our customers that have successfully used Constant Contact to market their companies. We have some of the most committed, passionate customers out there and we're proud we can be a part of their continued success."
Although the market has expanded, and social media offers many options for small business owners, I still think there is a place for email.  If you do, and would like some help with your campaigns, give us a call.