We recently worked with Solid Foundation Investment Property (SFIP) to design and build a brand new website.  They previously had no website or branding, so I worked with our graphic designer, Taylor, to come up with a brand new design.  It is always fun starting from scratch because that is when the best ideas comeout.We were fortunate, because our client was very open t o our ideas and suggestions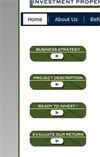 SFIP is a professional residential redevloper, so we wanted the new website to look clean and classy.  The website is very unique because we created buttons on the sidebar that link to the blog categories.  Taylor created the buttons based off of the new logo.  I think this gives the website great color without over-doing it.  We also wanted to showcase previous and current projects that SFIP is working on.  This will allow future clients to see the kind of work SFIP does.
Overall, this web project was fun to work on and the client was extremely happy with their new website!